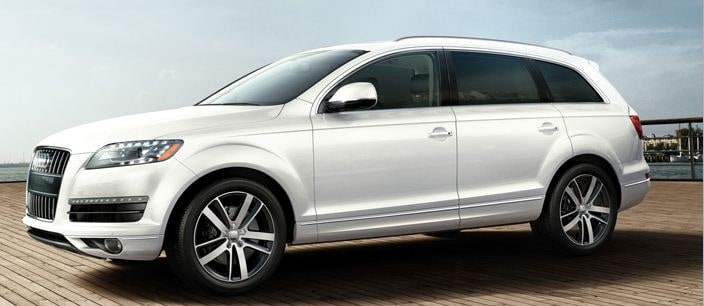 The clean lines of the Audi Q7 interior are designed to create an uncluttered, progressive looking environment that easily accommodates seven passengers. Additionally, it offers the flexibility of many different interior configurations to suit your specific needs.
Find the Audi Q7 at
Fred Lavery Company
, your top rated Birmingham Audi dealer, today!
2011 Audi Q7 For Sale Near Detroit
Audi has always held firm the belief that prevention is the best safety feature of all. The 2011 Audi Q7, available at your premier
Audi Dealer
serving Detroit, offers an abundance of features designed to help keep you out of harm's way.
For instance, the Electronic Stabilization Program (ESP) helps keep the vehicle traveling in its intended direction by utilizing ABS, the traction control of ASR and the electronic brake force distribution of EBD. Audi has implemented a number of ingenious features to maximize braking effectiveness.
In wet conditions, the brake disc wiping system gently pulses the brakes to dissipate water buildup. Keeping the discs as dry as possible promotes the most effective braking. Additionally, the brake assist system is able to detect an attempt at full braking and apply full stopping power when required. The advantage is that braking distance is significantly reduced.
General Overview
TDI clean diesel gains its incredible power from a number of innovative technologies. The turbo itself offers Variable Turbine Geometry (VTG), which allows more of the power generated by the turbo to be used at lower engine speeds. That means quicker acceleration off-the-line.
High-pressure direct injection is also part of what gives TDI its remarkable power. Supported by common-rail technology that pumps fuel through the precise Piezo injectors, an exact fuel and air mixture is achieved for maximum combustion, resulting in maximum power output. For you, that means a more exhilarating driving experience.
For more than 20 years, TDI® has been the leader in diesel technology. It's powerful and efficient, offers lower CO2 output than gasoline engines and is extremely quiet.
Come to
Fred Lavery Company
and find more information about the
2011 Audi Q7
for sale near Detroit today!