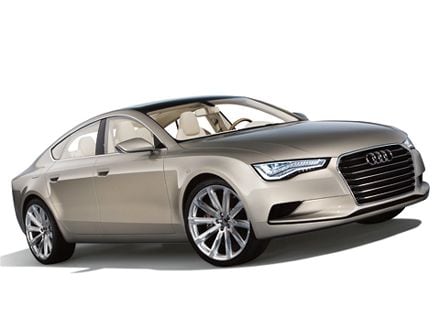 Detroit Audi shoppers can come into our Detroit area Audi dealership, Fred Lavery Company, and experience the 2012 Audi A5. The sculpted contours of the body reveal precise lines that define its visual hallmarks: two feature lines in the shape of a "V"uniting the A5 from the end of the hood to the bumper. Combined with dynamic curves, the body allows for the interplay of light and shadow, giving the A5 a pronounced dynamism.
Fred Lavery Company has the complete lineup of 2012 Audi vehicles. Come into our Detroit area Audi dealership and test drive an A5 today!
Power and Performance
The 2012 Audi A5, available at our Detroit area Audi dealership, delivers performance that is thoroughly dialed in. An optimal balance of responsive power and agile handling is the formula that creates the incomparable feel of the A5. The 211hp 2.0 liter turbocharged engine with 258 lb-ft. of torque flows through quattro, making the 2012 Audi A5 the only car in its class to offer standard all-wheel drive. By splitting the torque with a 40:60 rear bias, handling becomes sportscar-like.
When conditions require, the system dynamically shifts the torque to the wheels with the most grip. The result is total confidence around any turn and peace of mind in any weather condition. The ingenious configuration of the front differential, clutch and steering rack, combined with the use of lightweight aluminum suspension components, contributes to an optimal weight distribution in the 2012 Audi A5. What's the result? Responsive steering, impressive agility and well-balanced driving dynamics. Comfort combined with precise and responsive handling make the A5 a true performance car for Detroit Audi A5 drivers!
Interior Features
The interior of the 2012 Audi A5, ready to go at Fred Lavery, places you in the middle of thousands of exquisite details, all designed to create a one-of-a-kind driving experience. Premium materials like Dark Brown Walnut wood or Aluminum inlays are honed to a maximum tolerance of just 0.2 mm. The Genuine Milano leather undergoes no less than 45 tests to determine durability and comfort. Even the color of the leather, dash and inlays are precisely matched, compensating for variations in texture and reflectivity. Together, they create an interior unmatched in its class.
Angled slightly toward you, the driver-oriented cockpit with a hand-stitched, leather-wrapped steering wheel is the focal point, where technology and craftsmanship intersect. The stitching, the precise positioning of the spokes for your thumbs and even the thickness of the steering wheel itself create a feeling of total control.